365
days

/

24

hours

The service in our facility, for all accommodation categories, implies a 24/7, year-round care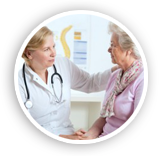 check-up by general practitioner
blood pressure and glucose level exams
basic laboratory analyses
visits to/from medical specialists
REGULAR CHECK-UPS
YOUR HEALTH IS OUR CONCERN
The home is equipped with its own laboratory and basic diagnostic devices. It owns an ambulance for transportation in the event of urgent interventions beyond our capacities, and it has concluded contracts of business and technical cooperation with the local and the state healthcare institutions. Organised visits to and from medical specialists. Permanently employed doctors, head nurses, psychologist, physiotherapist, nurses and caregivers.
REHABILITATION
ANTICIPATE EVERY SITUATION
Daily exercising with the instructor, according to wishes and free will. Individual work is provided in the gym, with permanent control by the medical staff. Relaxation use of hydro-massage, hydro-massage tub and electromagnetic therapy at the physician's advice. In the intensive care ward, besides a stay of permanent service users, a stay of regular tenants is envisaged for the moments when they need a treatment and a 24-hour supervision by the physicians, after which they return to their rooms.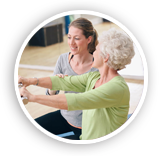 yoga, Tai chi and physical exercises
hydro-massage tub
electromagnetic therapy
individual work with an instructor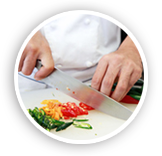 three meals and two snacks daily
kitchen according to HACCP standard
organic foodstuff
served in a desired environment
NUTRITION
ALWAYS A FRESHLY PREPARED MEAL
It is a house rule that breakfast and dinner have to differ at least on weekly level, and lunch on fortnight level. The quantities of food, dairy drinks, juices, fruit and cakes are not limited, except for persons with special diets and in the cases when they directly endanger health of our tenants. Dining is possible at the festivity hall, in the floor living-room or in the room, depending on the health condition of the tenants. All meals are always freshly prepared, various, and made of first-class organic foodstuff.
SOCIAL LIFE
LIFE GETS A NEW DIMENSION
The staff, with the support and cooperation of the local self-government, organize guests with musical, cultural and entertainment programme, dancing nights, quiz competitions, courses for acquiring new skills, hobbies and sports competitions adjusted to physical abilities. Celebrations of festivities, family patron's days, New Year's Eve, blowing of birthday candles on the cake, give our facility a special warmth of stay. Hospitable, kind and simple-hearted local people from the neighbourhood are good hosts, and they regularly send invitations for their festivities or everyday socialising.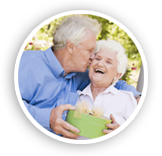 recreation and competitive quiz
entertainment programme and celebrations
internet café library
socializing with the rest of the world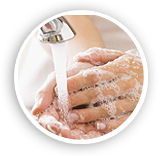 hygiene in the service of health
air ionizers
toiletries for free
caregivers' assistance
HYGIENE
IT IS NEVER TOO CLEAN
The facility provides a high level of hygiene, basic toiletries for each user, daily changing of towels, changing of bedsheets twice a week or more frequently according to the needs, regular cleaning of rooms and common areas, assistance for less mobile persons in maintaining daily and general personal hygiene. All embedded materials and furniture are selected in the manner that provides an absolute hygienic protection, and the ventilation system provides a constant presence of fresh air. We follow our moto ''it is never too clean".
SERVICE +
ALONG WITH EVERYTHING ELSE, THIS IS ALSO POSSIBLE…
Besides the regular weekly fieldtrips to the surrounding environment, the facility organises a trip from the programme ''Meet Serbia'' once a month. Along with socialising and leisure, the goal of the trip is to get to know the sights of our country, to visit monasteries, spas, nature parks, lakes and rivers, and historic sites from its people's rich past. In one part of the surrounding yard, we have prepared boxes and houses for your pets. They are taken care of by you or by our staff. In the same part of the yard, we have provided an individual growing of flowers, vegetables and medicinal herbs, as an excellent working therapy that brings the body in harmony with nature.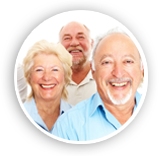 pets
trips every month
homeopathic garden
a garden of your own